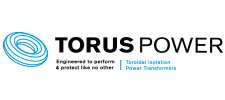 FOR IMMEDIATE RELEASE | DOWNLOAD IMAGES HERE
Torus Power Signs New Rep Firms
Paving the way for a strong 2018, Torus Power bolsters sales team with new rep firms 
Toronto, ON, Canada (November 2017) Torus Power, maker of uncompromising, clean, isolation transformer-based power AV components, has announced the appointment of two new independent rep firms. Bolstering its presence across the U.S. as well as its commitment to providing U.S. dealers with effective, personalized service, Torus Power has signed Electronic Marketing Associates Inc. (EMA) of Kansas City, MO, and Specialty Sound and Vision of Montvale, NJ to represent the brand in their respective regions.
Torus Power Strengthens Service Across Midwest through EMA
Billed as much more than just a manufacturer rep firm, EMA serves as trusted consultants, designers, and advisors to technology professionals in the custom electronics space. EMA will serve Torus Power dealers in the Missouri, Iowa, Nebraska, and Kansas (MINK) territory. Founded in 1972 by John Blando, EMA has a rich industry history of serving both retail and CI dealers. Torus Power joins such prestigious brands as Atlona, Core Brands LLC, McIntosh Group, Yamaha, and many more on the EMA line card.
Specialty Sound and Vision Serves Tri-State Area Dealers
Specialty Sound and Vision has a 20+ year history serving custom installers in the New York Metro area and is poised to assist Torus Power dealers across New York and New Jersey with not just product sales, but marketing services. Torus Power joins a robust line card of high performance, limited distribution brands including Leon Speakers, Wisdom Audio, and many others.
Powering Future Growth
These appointments come at the tail-end of a year marked by growth, expansion, and outreach for the Canada-based manufacturer of power products. With big plans for 2018 in the residential, pro audio, and commercial channels, Torus Power will kick off the New Year attending ISE in February. In June, Torus Power will attend InfoComm 2018 presented by AVIXA , where it will connect with commercial integrators requiring clean power for mission-critical applications in healthcare, recording studios, public auditoriums, educational facilities and anywhere else that the highest quality of audio/video reproduction matters. 
About Torus Power
Toroidal isolation power transformers by Torus Power are the world's finest clean power source for audio, video, and control systems. Dramatically increasing performance levels of connected AV components from video displays to amplifiers and powered speakers, Torus Power products utilize Plitron Manufacturing's patented NBT technologies and medical-grade toroidal isolation transformers to eliminate virtually all power-line noise artifacts and protect equipment from potentially damaging AC power line events while increasing system reliability and extending product life. Torus Power products deliver higher levels of instantaneous current which ensures that dynamic components and high-performance systems are never compromised, nor starved for power.
Built to rigorous specifications under Plitron Manufacturing's ISO 9001 quality control system in Toronto, Canada, Torus Power's toroidal transformers—the heart of the Torus Power product line—utilize similar technologies as those found in leading AV amplifiers as well as in industrial, medical, broadcast, telecommunications, IT, power conditioning, and energy management applications. For additional information visit www.toruspower.com and follow Torus Power on Twitter and Facebook.
All products, product names, trademarks and registrations mentioned are the property of their respective owners, all rights reserved.
Media Contact
For interviews, reviews, or media tours, please contact Katye (McGregor) Bennett of KMB Communications, Inc. by phoning (425) 328-8640 or emailing [email protected].
# # #