A buzz-generating story has hit the trade press and has gotten a lot of attention: Our client, Torus Power, has become an independent business entity, spinning-off from parent company Plitron Manufacturing. The "transition is the direct result of the company's planned, progressive growth over recent years," as stated in the press release we put out recently.


"Key employees have been retained and are committed to helping Torus Power reach new heights. Founder Howard Gladstone will stay on as Chairman and CEO. Kevin Main has been promoted to President and COO, and Ross Whitney will become Torus Power Technical Sales Specialist and Customer Service Manager," the release continues.
As Torus Power's PR firm, KMB Communications is extremely proud to share this news, and to also point out that it comes at a time when the company is posting record sales.
What made this strategic move possible? Let's take a look back – and forward – to explore threshold moments that contributed to Torus Power's growth, from a powerful CEDIA event anchored by a live performance by Bass Virtuoso Dean Peer and percussionist Bret Mann, forward into 2016 and beyond. It's really no surprise that Torus Power is leaving the Plitron nest (so to speak) to soar on its own.
(Spoiler alert: While the toroidal isolation power transformer supplier remains dedicated to the high-end home theater market, the company has expanded—with great success— into other markets via support from the company's dealers, partners, and peers.)
Spring 2015: Expanded Outreach and Channel Partner Growth
Torus Power revamped its website (www.toruspower.com) with an emphasis on video and technical depth to better illustrate how the company's products work and to showcase the benefits of toroidal isolation power transformers.
In conjunction with the site launch, KMB was contracted to ramp-up Torus Power's social media presence and outreach efforts, updating the company's Facebook page and launching a Twitter account to better engage with the AV community, the media, and the home theater and two-channel audio markets. This project was, and is, managed by Dawn Allcot of Allcot Media, Inc., a trusted KMB partner since March 2015.
Torus Power signed Karma AV as its UK distributor, expanding international availability for the professional, residential, and audiophile markets. "Torus Power's product range provided by far the best power and performance results we have achieved to date, more so than other brands we have tried over the years," said Ian Severs, of Karma AV.
Fall 2015: New Products, Awards, Rep Firms
Building on the success of the TOT Max and TOT Mini series isolation transformers, Torus Power launched the TOT AVR, which provides that same small chassis but adds automatic voltage regulation, at a fraction of the price previously offered. The unit made waves due to its smaller footprint, lighter weight, and lower cost than the AVR series. The product went to win a CE Pro BEST Award in the power products category.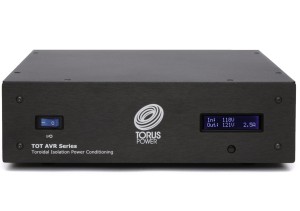 Returning from CEDIA, Torus Power signed several new independent residential U.S. sales reps, including L.P. Hench Company, The Performance Group, Inc., and Navigant Marketing. As an interesting aside that further showcases the small, highly interconnected world we live in, KMB's Chief Strategist Katye (McGregor) Bennett worked with Mike Hench of L.P. Hench when Katye was Executive Director of the EDGE Distributors Group and is happy to reconnect with him as KMB works to support Torus Power dealers and distributors.
Respected AV writer Bob Archer reviewed the Torus Power AVR 20 and TOT Max power transformers in a CE Pro column and even recorded an A-B sound test that, for the first time ever, showcases to anyone in the world the difference clean power makes. CE Pro Europe picked up the review, further educating the EMEA audience on Torus Power's differentiated offering.
Winter 2015 / 2016: The Buzz Continues

To cap off a phenomenal year:
– Bob Archer named the TOT AVR as a CE Pro "Top Pick" product of 2015. www.cepro.com/article/editors_picks_bob_archers_products_of_2015
– Torus Power showcased award-winning dealer Multimedia Resource Group, whose Home Building Industry (HOBI) Award-winning Greenwich, CT, home theater installation prominently features a Torus Power WM 45 BAL AVR TVSS isolation power transformer. This installation will be entered into both the CEDIA and Electronic House Home of the Year Awards.
Torus Power's success in the residential custom integration and professional AV markets is well-aligned for further expansion in 2016, as, together with KMB Communications, the manufacturer continues to focus on educating their audience about the undeniable benefits of integrating isolation transformers into AV systems where audio and/or video quality is important.
Recording Studio Success Stories
Expect to see more articles and information about Torus Power products at work in professional and home recording studio environments. After all, studio designer Arthur Kelm has been touting the benefits of Torus Power products in studios for years – we're all excited that word has spread. Throughout March we'll be featuring an awesome story about Pro Audio LA, who is both demonstrating and specifying Torus Power products with great success.
Stay tuned. We'll have additional case studies, photos, videos, and more in the coming months.
Reach Out and Catch Up
As always, KMB Communications and Torus Power are happy to share our knowledge on toroidal isolation benefits and solutions. Catch up with the company on Vimeo , Youtube, Twitter, and Facebook now!