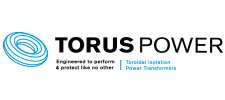 For Immediate Release
Torus Power Wall Mount Isolation Transformers Free-up Rack Space, Deliver Valuable Options for the Custom Installation Systems Integration Community
Toronto, ON, Canada and Dallas, TX—Sept. 12, 2016—Torus Power, maker of uncompromising, clean, isolation transformer-based power components will be showing the benefits of its Wall Mount (WM) isolation transformers in booth #1305 during CEDIA 2016, being held September 13–17 at the Kay Bailey Hutchinson Convention Center in Dallas, TX.
The WM Series adds increased flexibility for custom AV and home automation installations—both retrofit and new construction. To take advantage of this, most of Torus Power's flagship models are available in Wall Mount versions, so the integrator simply must choose the appropriate power level ratings, features desired, and chassis type. For example, the company's WM RM is a Wall Mount version of the RM Series—a favorite among audiophiles and two-channel enthusiasts. It features toroidal isolation transformers, noise-filtering technology, high instantaneous current capability, and series mode surge suppression. Meanwhile, the WM AVR has all of the features of the WM RM, but adds automatic voltage regulation and smart Ethernet. The WM AVR2 isolation transformer goes a step farther with custom control capabilities.
"While the power management category is constrained by myths and misconceptions, Torus Power isolation transformers deliver tangible results that can be seen, heard, and experienced," says Kevin Main, President and CEO of Torus Power. "Utilizing proprietary technologies and toroidal transformers that isolate the power supply, our Wall Mount models are engineered to ensure optimal system performance, making it possible for integrators to deliver the most reliable solution for high-end, high-performance installations."
Thanks to Torus Power's unique ability to customize products in its lineup, integrators can specify units ideally suited for their client's needs. For example, WM models are initially designed for 240V inputs, but they can also be supplied with 208V inputs for 3-phase systems. Furthermore, WM models are provided with 20A output breakers and can be supplied with terminal blocks to enable direct feed to subpanel. All WM models are available with a Transient Voltage Surge Suppression (TVSS) device built into its signal path that also offers additional noise filtration. Balanced Input Voltage is also available at 208V for BAL products feeding from a 3-phase system. International models of various voltages and frequencies can also be configured.
Torus Power is a Crestron Integrated Partner and a member of Savant's Partner in Excellence Program, which enables seamless integration across platforms. Ihiji has also brought the Torus Power family of isolation transformers to its Invision remote network management software, giving integrators and installers much more control to power cycle (remote reboot) and control settings on Torus Power products.
More information about Torus Power can be obtained by visiting www.toruspower.com, calling (800) 754-8766, writing to [email protected] and by following @TorusPower on twitter.
Experience the Torus Power difference at CEDIA 2016 in booth #1305.
About Torus Power
Toroidal isolation power transformers by Torus Power are the world's finest clean power source for audio, video, and control systems. Dramatically increasing performance levels of connected AV components from video displays to amplifiers and powered speakers, Torus Power products utilize Plitron Manufacturing's patented NBT technologies and medical-grade toroidal isolation transformers to eliminate virtually all power-line noise artifacts and protect equipment from potentially damaging AC power line events, while increasing system reliability and extending product life. Torus Power products deliver higher levels of instantaneous current which ensures that dynamic components and high performance systems are never compromised, nor starved for power.
Built to rigorous specifications under Plitron Manufacturing's ISO 9001 quality control system in Toronto, Canada, Torus Power's toroidal transformers—the heart of the Torus Power product line—utilize similar technologies as those found in leading AV amplifiers as well as in industrial, medical, broadcast, telecommunications, IT, power conditioning, and energy management applications. For additional information visit www.toruspower.com and follow Torus Power on Twitter and Facebook.
All products, product names, trademarks and registered trademarks mentioned herein are the property of their respective owners, all rights reserved.
Media contact
Katye (McGregor) Bennett | KMB Communications, Inc.
(425) 328-8640 | [email protected] | www.kmbcomm.com |
KMB Facebook | KMB Google+ | KMB LinkedIn | KMB Twitter
# # #