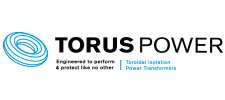 For Immediate Release
ISE AV EMEA Stand #5-R125
Torus Power Showcases TOT AVR Toroidal Isolation Power Unit at ISE 2017
Distributors, dealers, and consumers, alike, recognize benefits of these compact, affordable, feature-rich toroidal isolation transformers
Toronto, ON, Canada and Amsterdam, Netherlands —January 2017– Torus Power, maker of uncompromising, clean, isolation transformer-based power components, announced it will showcase its TOT AVR CE, part of the award-winning TOT AVR range, for international audiences at ISE 2017 in the RAI Amsterdam, Netherlands, from February 7 – 10, 2017. The TOT AVR CE, along with the AVR2 series and other quality toroidal isolation transformers will be on display in the AV EMEA stand # 5-R125.
Highly regarded by the national and international press and the winner of multiple awards, the TOT AVR boasts many of the same features found in Torus Power's bestselling AVR line in a more compact, affordable package.
TOT AVR Brings Torus Power Quality to Budget-Friendly Designs
The TOT line was designed for smaller applications, where users want the benefits of toroidal isolation, Series Mode Surge suppression, and clean, uninterrupted power in a smaller package for home theaters, two-channel listening rooms, and small distributed sound systems.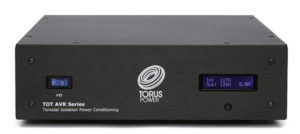 Small in size with a compact, stylish chassis, the TOT AVR CE boasts many robust features. Like other Torus Power isolation transformers, it uses Plitron's NBT noise-filtering technology to restore incoming power to its clean original state, delivering high-quality sound and video. Audio comes alive with a lower noise floor, better dynamics, imaging and bass, and video is notably crisper with brighter colors and darker blacks. The TOT AVR CE also provides low source impedance to connected components and devices, enabling high instantaneous current delivery that ensures dynamic components aren't starved for power.
"Everything is crystal clear," says one international consumer and audiophile, Radoslav Kosák of Trnava, Slovakia. "Bass is tighter and deeper, and the soundstage is wider—all without dynamic loss! Everything is one level better. I've never experienced such a huge improvement with a single piece of power equipment."
Automatic Voltage Regulation Provides Clean Power for Enhanced Performance, Regardless of Electrical Grid Conditions
Building on the popularity of the TOT Max and TOT Mini toroidal isolation transformers, the TOT AVR adds Automatic Voltage Regulation to address voltage sags, power line surges, and brownouts that can damage delicate AV components and shorten equipment life. Automatic Voltage Regulation technology provides stable voltage to keep systems running in the optimal range of 230V +/- 10V on international voltages. The TOT AVR continuously monitors incoming voltage for high- or low-voltage conditions and seamlessly triggers compensating circuitry instantaneously.
The result? Clean, consistent power regardless of electrical grid conditions, delivering an audio and video performance that is free of buzzes, hisses, pops, and other noise or any reduction in visual clarity. The TOT AVR promises to power and protect delicate AV components in any conditions, while improving audio and video quality in any application.
ISE attendees and others interested in learning more about enhancing the performance of their AV systems and protecting delicate audio visual equipment from variable power line conditions can read more in the Torus Power white paper, The Fundamentals of Automatic Voltage Regulation here: http://www.toruspower.com/plain-white-papers/the-fundamentals-of-automatic-voltage-regulation/.
Visit AV EMEA stand, # 5-R125 during ISE to learn more about TOT AVR and to experience the Torus Power difference.
About Torus Power
Toroidal isolation transformers by Torus Power are the world's finest clean power source for audio, video, and control systems. Dramatically increasing performance levels of connected AV components from video displays to amplifiers and powered speakers, Torus Power products utilize Plitron Manufacturing's patented NBT technologies and medical-grade toroidal isolation transformers to eliminate virtually all power-line noise artifacts and protect equipment from potentially damaging AC power line events, while increasing system reliability and extending product life. Torus Power products deliver higher levels of instantaneous current which ensures that dynamic components and high performance systems are never compromised, nor starved for power.
Built to rigorous specifications under Plitron Manufacturing's ISO 9001 quality control system in Toronto, Canada, Torus Power's toroidal isolation transformers—the heart of the Torus Power product line—utilize similar technologies as those found in leading AV amplifiers as well as in industrial, medical, broadcast, telecommunications, IT, power conditioning, and energy management applications. For additional information visit www.toruspower.com and follow Torus Power on Twitter and Facebook.
Media Contact
Katye (McGregor) Bennett | KMB Communications, Inc.
(425) 328-8640 | [email protected] | www.kmbcomm.com |
KMB Facebook | KMB Google+ | KMB LinkedIn | KMB Twitter
All products, product names, trademarks, and registrations mentioned are the property of their respective owners, all rights reserved.
# # #