IBS 2022 (International Builders Show) Booth W5779
At IBS 2022, WALL-SMART shows broad range of flush wall mounts that help home builders, architects, designers, and systems integrators minimize the appearance of popular home technologies. 
ORLANDO, FLORIDA (February 7, 2022) – WALL-SMART, displaying at the International Builders Show (IBS 2022), understands the challenges builders, architects, designers, and systems integrators face when adding popular technologies like touchscreens, tablets, voice assistants, security cameras, Wi-Fi access points, and more into homes. Achieving an aesthetically pleasing fit and finish can be difficult. Rather than let smart home technology impede on the home aesthetic, WALL-SMART offers to the build/design community a range of custom-designed and -manufactured mounting hardware that recesses devices flush with wall and ceiling surfaces. Developed for new construction and retrofit applications, the innovative wall and ceiling mounts turn home tech devices into natural parts of wall or ceiling surfaces, rendering them dramatically less conspicuous. Visit WALL-SMART in booth W5779 at IBS 2022. 
"Technology has become a necessity for most households, but that doesn't mean the home environment must suffer from 'wall and ceiling acne'," says WALL-SMART Co-CEO and Founder Galia Ben-Dor. "This is the philosophy on which WALL-SMART was conceived and bases the design of every product we develop. We think every home should be as beautiful as it is smart, and our mounting solutions give builders, architects, designers, technology integrators, and their clientele even more ways to achieve this objective with ease and simplicity."
WALL-SMART showcases at IBS 2022, in booth W5779, a variety of design-friendly flush wall mounts from its portfolio, including mounts for a consumer-favorite, soundbar speakers from Sonos, as well as a mount for the newest tablet from Apple, the iPad Mini 6. These new products join WALL-SMART's diverse family of discreet mounting solutions, customized and crafted for effective and simple installation using standard construction techniques in drywall, as well marble, glass, wood, concrete, and other solid surfaces. 
Each of WALL-SMART's wall and ceiling mounts is custom-designed, -engineered, and fabricated with a specific home tech product in mind. This attention to detail ensures not only a seamless, completely flush appearance but also optimal convenience of use and quality of performance. Included in the WALL-SMART line are mounts for best-in-brand devices, including Sonos Beam and Arc soundbars, Apple iPad tablets, Lutron lighting keypads, Control4 touchscreens and keypads, Crestron touchscreens and keypads, Savant low-voltage keypads, Araknis Wi-Fi access points, IC Realtime security cameras, Honeywell home security keypads, Legrand light switches, and more.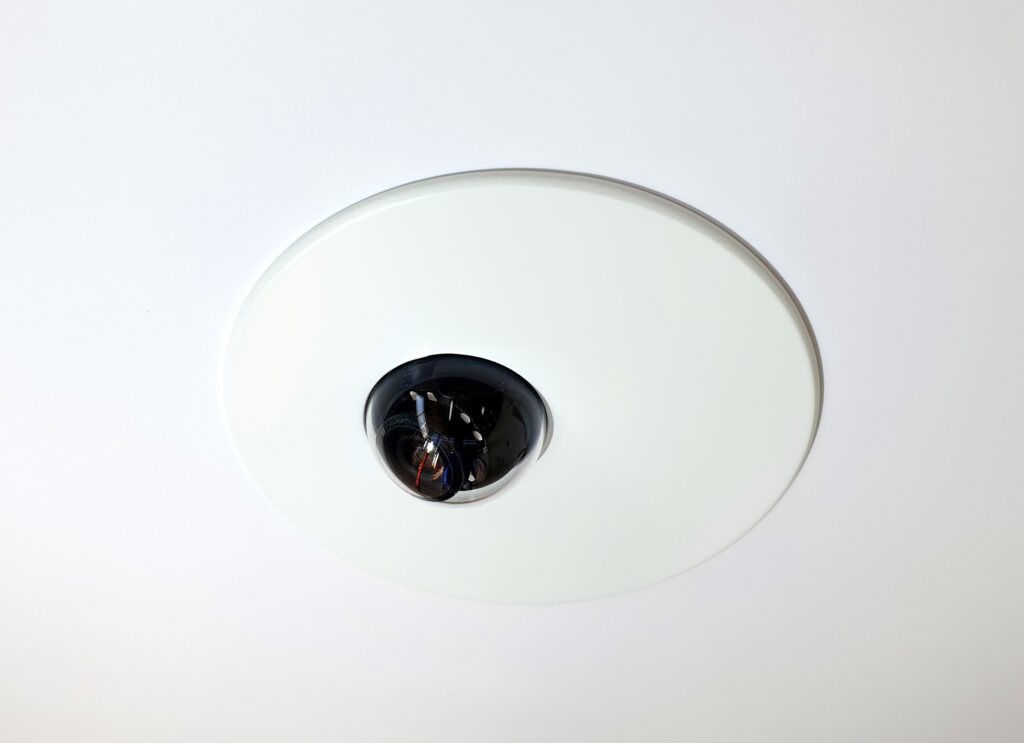 WALL-SMART Hides Security and Surveillance Cameras
A top-requested technology of consumers is a security camera. Unfortunately, this increasingly common household device can be difficult to hide without hindering its ability to capture video. Mounts from WALL-SMART solve this problem by drastically downplaying the appearance of IPMX-W40F and IPMX-W20F security cameras from IC Realtime without any impact on their ability to detect movement and capture real-time video. The body of the camera tucks inside WALL-SMART's specially designed mount, leaving only the lens exposed and trimmed attractively with a faceplate. 
WALL-SMART Enables Seamless Installation of Light Switches and Electrical Receptacles
WALL-SMART mounts recess light switches and electrical receptacles seamlessly within wall surfaces, providing the build/design community with a more attractive solution than conventional surface-mounted options. Available for switches and receptacles from leading manufacturers, including Lutron, Legrand, Control4, and Savant are mounts for new construction, retrofit, and solid-surface installation.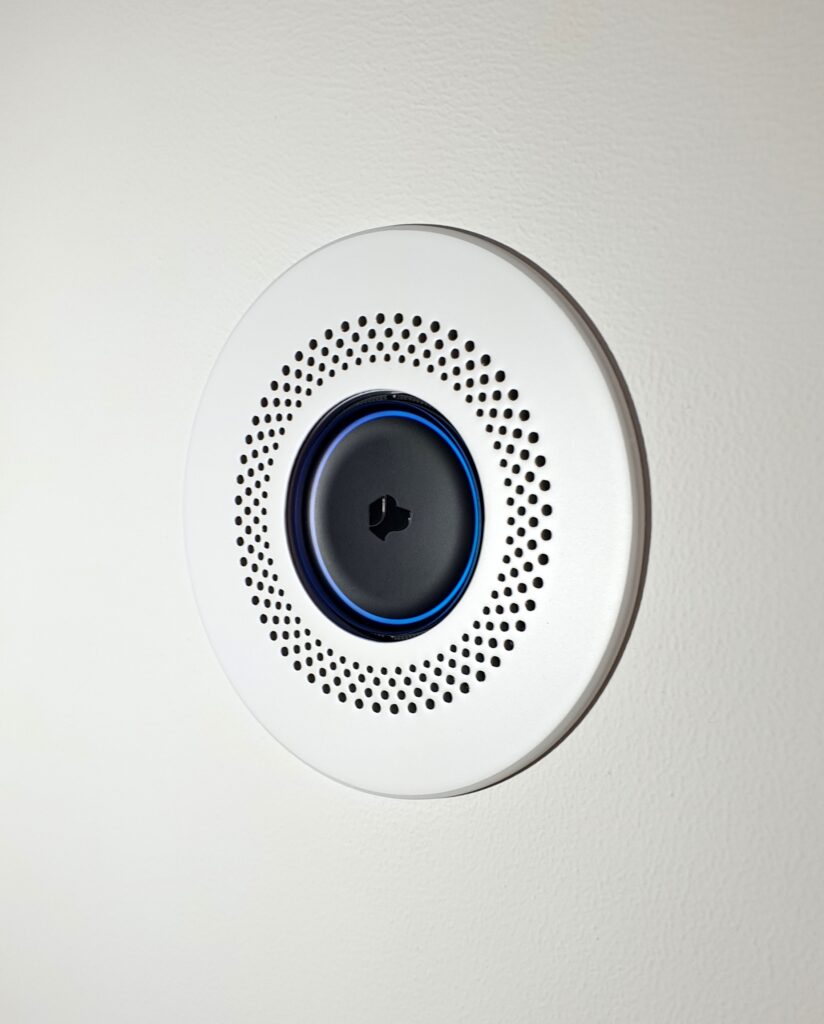 WALL-SMART Clears Voice Assistants from Countertops and Furniture
In 2020, there were 4.2 billion digital voice assistants used in devices throughout the world, according to research firm Statista. This number is expected to reach 8.4 billion units by 2024. WALL-SMART is doing its part to minimize the visual impact of voice assistants on home environments via custom mounting hardware that recesses the technology flush with wall surfaces. Thanks to WALL-SMART's design-forward line of wall mounts, builders, designers, architects, and systems integrators can offer their customers an eye-pleasing and space-saving alternative to placing voice assistant devices on countertops and tabletops. 
WALL-SMART Delivers Discreet Installations of Sonos Soundbars
A recent addition to WALL-SMART's portfolio is a line of flush wall mounts for Sonos' popular Beam and Arc Soundbars. The mounts enable the soundbars to be recessed within wall surfaces, giving builders, architects, designers, and systems integrators an installation alternative to placing soundbars inside furniture or attaching them directly to displays. The mounts are available for retrofit applications, in black and white with acoustically transparent grille covers to match. They have been designed for quick and easy assembly and installation.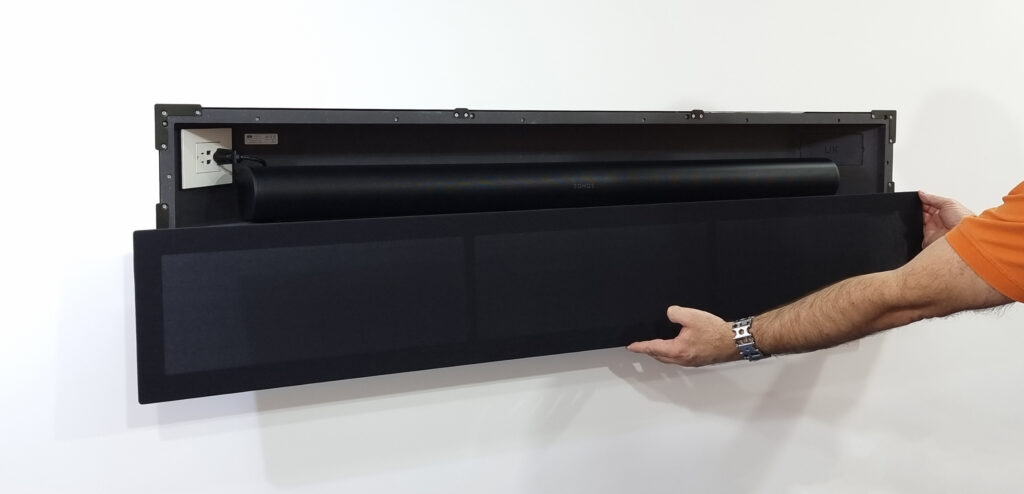 WALL-SMART Blends Apple iPad Tablets Into Home Designs
According to research firm Statista, as of February 2021, approximately 53% of adults in the U.S. owned at least one tablet, with Apple's uber-popular iPad leading the way. Chances are, many of these iPads are used within homes. Rather than let tablets clutter countertops, WALL-SMART has developed custom wall mounts that recess Apple iPads, including the new iPad Mini 6, flush with wall surfaces. Builders, architects, designers, and systems integrators can now blend tablets beautifully into the home environment.  WALL-SMART's mounts for Apple iPads are available for new construction and retrofit applications.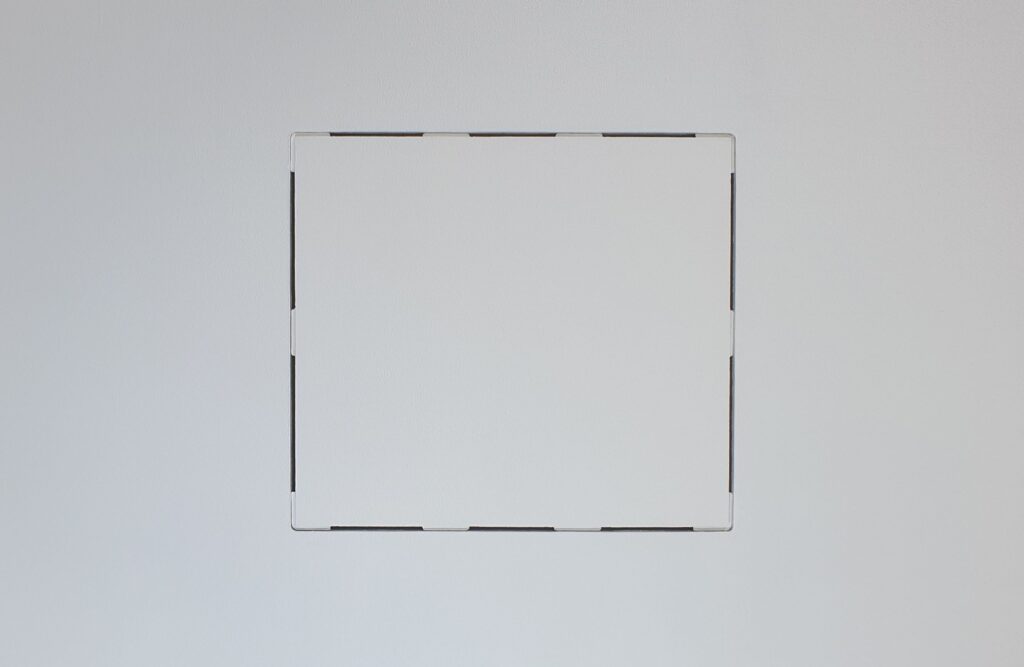 WALL-SMART Conceals Wi-Fi Access Points Within Ceilings
Customized for a variety of leading-brand Wi-Fi access points, WALL-SMART's innovative mounts take a device that would ordinarily protrude from the ceiling and recess it completely within the surface. Builders, architects, designers, and systems integrators can deliver their customers high-performance Wi-Fi 6 connectivity without compromising the aesthetics of the home environment. Without design limitations, access points can be located where they provide the strongest, fastest, most reliable Wi-Fi signals for optimal connectivity and a better customer experience. 
WALL-SMART Tames the Appearance of Home Control Touchscreens
Touchscreens are quickly becoming a mainstay in modern smart homes as a means of control, communication, and access to the Internet and video, like real-time images captured by security cameras. To grant homeowners quick and easy access to these features, touchscreens are best positioned in high-traffic areas. To minimize their appearance in areas like kitchens and foyers, WALL-SMART offers mounts for home control touchscreens from leading manufacturers, including Crestron, Control4, Elan, and Savant. Versions for installation in new construction, retrofit, and solid-surface applications are available, as well as retrofittable low-profile bezels in black, white, or unpainted so as to be custom-painted or material-matched to the adjacent surface. WALL-SMART bezels feature imperceptible perforations to enable clear, uninhibited audio transmission for intercom and voice control via the touchscreen.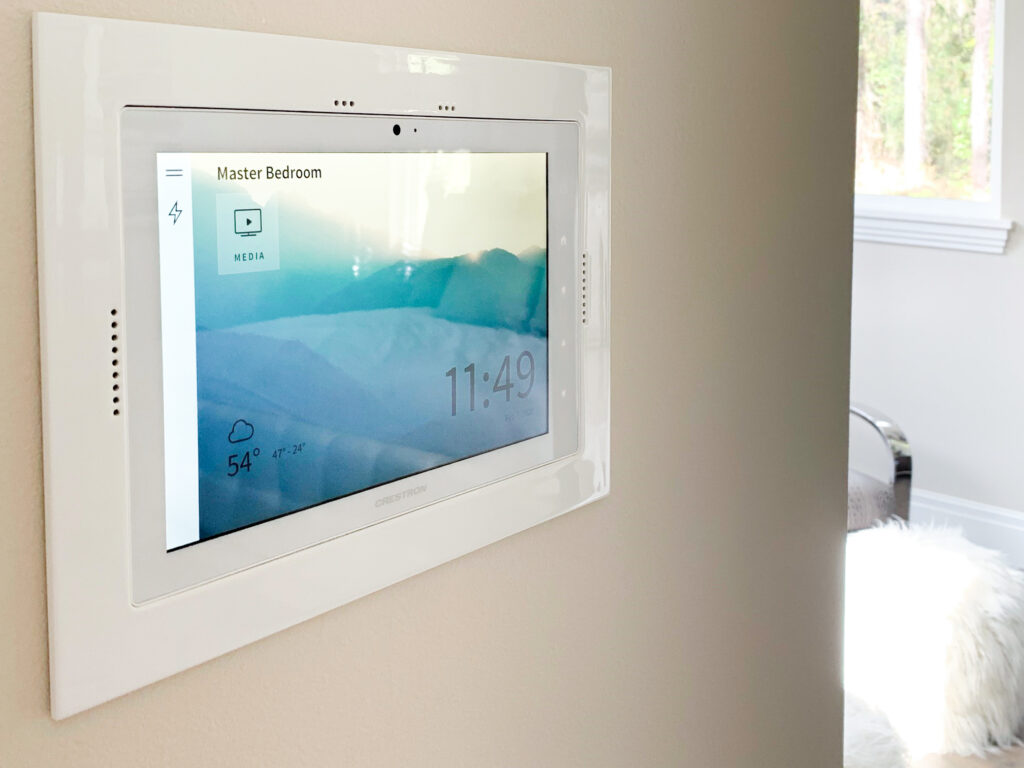 WALL-SMART Affords Quick and Easy Installation During and After Construction
Comprising moisture-resistant, chemically treated MDF, WALL-SMART's design-forward mounts install similar to that of any drywall application. The mounts recess into standard stud bays and ceiling joists for a flush appearance. Finished with drywall or a low-profile, paintable bezel, the mounts enable technology to become a seamless part of the surface, significantly minimizing its visual impact on the home environment. 
WALL-SMART mounts can be used in any home construction or remodeling project, installed into virtually any surface, including drywall and plaster, as well as concrete, brick, wood, marble, glass, and metal. Installation in new construction follows standard Level 4 drywall procedures. Retrofit installation typically takes less than five minutes and does not require a drywall expert. The mounts can be ordered directly from WALL-SMART or from its partners for any technology that's specified for the residence, further simplifying the deployment process. Should a device require maintenance, repair, or replacement, it can be easily removed from the mount. 
Where to See WALL-SMART Mounts
To see WALL-SMART's extensive portfolio of technology concealment solutions for the design-build community, visit Booth W5779 at IBS 2022, as well as the New Product Zone. For more information about its extensive line of flush-mount products and to view instructional installation videos, go to www.wall-smart.com.
 About WALL-SMART Ltd.
WALL-SMARTis the leading designer and manufacturer of custom flush ceiling and wall mounts for high-end home electronic devices, including tablets, touchscreens, Wi-Fi access points, security cameras, voice assistants, and more. Dedicated to providing cutting-edge, creative, and cost-effective concealment solutions for technology in new and existing homes, WALL-SMART inspires homes that are both technically advanced and exceptionally beautiful. A wide range of products, combined with simple installation, and fast, hassle-free shipping, poises WALL-SMART as a valuable smart home resource for home systems integrators, home builders and contractors, architects, and designers. 
For more information about Wall-Smart, please find and follow us on Facebook, Twitter, Instagram, and LinkedIn. 
Media Contact
For interviews, reviews, or more information please contact Katye (McGregor) Bennett of KMB Communications by phoning (425) 328-8640 or emailing [email protected].
All products, product names, trademarks, and registrations mentioned are the property of their respective owners, all rights reserved.