Denver, Colorado (August 21, 2023) – After a successful rollout of its Basic Configuration Services to its nationwide network of Partners, Access Networks builds momentum by featuring this uniquely designed, dealer-focused program at CEDIA Expo 2023, Booth #1512 and #1518. Created to help dealers consistently and efficiently deploy small-to-medium size networking systems, Basic Configuration Services utilizes the expertise of the Access Networks team to preconfigure parts of a networking solution that's shipped to job sites ready to deploy. These preconfigured enterprise-grade networking products comprise all the necessary components, including Access Networks access points, switches, and firewalls.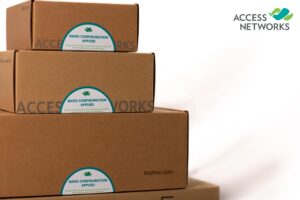 Access Networks makes the process simple: Systems integrators provide the Access Networks team with the parameters of the project. From there, the team develops a pre-configured solution that is ready to install as soon as it arrives on the project site. Equipped with turnkey products, even entry-level integrators can have networking systems up and running quickly, efficiently, and with confidence, saving time and money. 
Basic Configuration Services provides a valuable subset of services normally reserved for larger projects requiring Access Networks' Custom Core system. Systems integrators still receive basic support and troubleshooting advice post-installation via Basic Configuration Services—just not at the level they get from a fully managed and monitored Custom Core installation. 
The addition of Basic Configuration offers another service and support option for systems integrators to consider, making Access Networks a valuable partner whether they're installing networking systems in homes with basic connectivity needs or large estates with high bandwidth demands. 
"We developed our Basic Configuration Services to fill a void that existed between the purchase of our standard networks products and those managed by our advanced Custom Core networks. Now, our partners can get the service and support they need without having to move into a more complex networking solution," says Bryce Nordstrand, Vice President, Managed Services at Snap One. "They can stick with wireless products they know and love and still rely on Access Networks to deliver a complete, fully configured solution that's ready to install and caters to the needs of their clients. Whether a partner has years of networking experience or is new to the category, Basic Configuration Services streamlines and simplifies what is often a challenging smart home technology to deploy."  
Dealers also benefit from Access Networks' partnership with Snap One. From one source, dealers can quickly and efficiently obtain all the components they need to deploy a fully integrated smart home solution: advanced networking equipment, a broad range of Wi-Fi 6 access points for projects big and small, comprehensive support and service from Access Networks, and connected subsystems from fellow third-party manufacturers in the Snap One family all while earning Partner Rewards.
Where to See Access Networks at CEDIA Expo 2023
Integration pros are welcome to meet with the Access Networks' service and support team at the Snap One Booth #1512 and #1518 for on-the-spot design and installation assistance with current and upcoming networking projects. Here, attendees can also see Access Networks' range of problem-solving products and learn about the company's world-class service and support programs. 
To learn more about Access Networks, its enterprise-grade systems, and exceptional IT service and support please visit www.accessnetworks.com, on Twitter, Facebook, and Instagram.
About Access Networks
Access Networks, a Snap One brand, is a trusted provider of enterprise-grade networking solutions for the residential and commercial technology integration markets. Access Networks' mission is to deliver premier networking solutions that lead to exceptional client experiences while maintaining the highest level of professionalism, integrity, and innovation. This commitment to excellence is leveraged by Access Networks' superior IT support. From initial design to final configuration, Access Networks' team of networking specialists is on-hand to help integrators deploy projects with confidence. A clear, well-defined focus on managed services and support, combined with an ever-evolving portfolio of best-in-class networking solutions, positions Access Networks as a leader in the networking industry—enhancing home and business environments through reliable, stable, and secure digital connections to what matters most. To learn more, visit Access Networks online at www.accessnetworks.com and follow us on Twitter, Facebook, and Instagram.
Media Contact
For interviews, editorial appointments, or media tours, please contact Katye (McGregor) Bennett of KMB Communications by phoning (425) 328-8640 or emailing [email protected].