Designed for larger screens and easy integration, two new highly anticipated powered and passive FrameBars add on-board amplification and increased performance to Leon's designer Framebar series.
[Ann Arbor, MI] – July 24, 2023 – Leon is thrilled to announce the release of two new soundbars to its acclaimed FrameBar series. The new Powered FrameBar and FrameBar 44UX feature the original FrameBar's seamless integration with Samsung's The Frame TV—now with the powerful performance and high-fidelity audio of Leon's Horizon 44UX soundbar.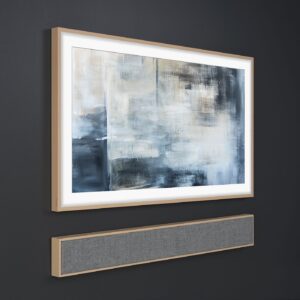 Built to match the exact width and finish options of Samsung's The Frame TV, all FrameBar products provide a unified, modern look to complement The Frame TV's artistic style. Meticulously engineered and handcrafted with 4" ultra-thin, audiophile-grade woofers and 1" silk-dome tweeters, the Powered Framebar and FrameBar 44UX each boast enhanced sound capabilities without sacrificing the clean, elegant look of the original FrameBar. 
The Powered FrameBar offers both the refinement and flexibility of Leon's OTO MCA 200 amplifier, enabling effortless installation and minimal wiring in an all-in-one, plug-and-play solution—delivering the ultimate audio experience for Samsung's Frame TV.
Key Features and Benefits of Leon's Powered FrameBar and FrameBar 44UX Soundbars:

Superior Sound Quality: Equipped with 4″ ultra-thin woofers and 1″ silk-dome tweeters, the Powered FrameBar and FrameBar 44UX deliver exceptional audio performance, immersing users in rich, detailed soundscapes.

Width and Finish Match: Each FrameBar perfectly matches the width and finish of any Samsung The Frame TV, ensuring a visually cohesive entertainment system that elevates the viewing experience.

Power and Simplicity: With its 200-watt on-board amplifier, the Powered FrameBar offers easy integration and minimal wiring, simplifying the installation process.
"Our philosophy at Leon has always been about delivering superior design without compromising on sound," says Leon founder and president Noah Kaplan. "The Powered FrameBar and FrameBar 44UX soundbars exemplify this philosophy, catering to discerning clients who seek exceptional design and an unrivaled listening experience."
To explore the complete FrameBar series, including the full range of finishes and designer grille fabrics available, visit Leon's website.
About Leon Speakers
Leon brings a creative approach to technology by designing and manufacturing customizable speakers and technology concealment solutions that enhance the sound and style of any space. For over 25 years, the company has been a leader in the conversation about merging design with technology, creating innovative products that serve both the Residential and Commercial markets. Learn more by visiting www.leonspeakers.com and by following @leonspeakers on social media.
Media Contacts
Press Contact: Katye (McGregor) Bennett
KMB Communications
(425) 328-8640
[email protected]
Company Contact: Carolyn Ceccoli
Sales & Marketing Director at Leon Speakers
(734) 926-4092
[email protected] 
# # #