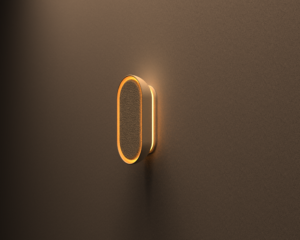 An exclusive preview of the all-new wall-mounted lighting and audio solution in one will be on display at CEDIA Expo 2023.
[Ann Arbor, MI] – September 5, 2023 – Leon and Calgary-based design firm Mera Studio Architects are thrilled to introduce an exclusive preview of the all-new Mera Sound Sconce at CEDIA Expo 2023.
A groundbreaking new approach to lighting and sound, the wall-mounted Mera Sound Sconce offers both full-range audio and a warm, comforting glow to elevate the sound, look, and feel of any space. Its artisan-inspired design is supported by Leon's 33UX audio platform and integrates diffused, dimmable LED lighting seamlessly. 
"Our idea for the Sound Sconce was to highlight and not hide the speaker—to think of it as an element in the room capable of transforming the user experience via sound and light," says Mera Principal Architect Tara Marshall. "All too often, speakers are the last element considered in a space. We wanted to rethink the speaker and come up with a design that would shift the concept of the speaker from an afterthought to a forethought, and the duality of a speaker that can illuminate a room just seemed to make sense. Why not integrate sound where you might already install a light? From there, we set out with Leon's team on the challenge of creating a speaker that was equally as beautiful as a light."
"We've learned so much through our collaboration with Mera," says Leon Founder and President Noah Kaplan. "Both of our organizations are committed to ending the disconnect between design and technology. Through our work with the Mera designers, we have gained a new perspective on modern architecture and the possibilities for the future of AV and technology—a future led by thoughtful, collaborative design."
The new sconce collection comes in three finish options handpicked to represent Mera's intentional, natural approach to color, material and texture—as well as Leon's commitment to high-quality craftsmanship and style. The sconce at this year's CEDIA Expo features a custom-knit bouclé grille fabric and coordinating textured powder-coat finish.
Leon expects to start shipping the new Mera Sound Sconce in Q1 of 2024.
Where to See Leon at CEDIA Expo 2023
CEDIA Expo 2023 attendees can see the Mera Sound Sconce and other design-forward technology concealment and customizable speaker solutions from Leon at Booth #1909. Systems integrators and designers can learn more about Leon's complete line of innovative residential and commercial solutions at www.leonspeakers.com
About Leon Speakers
Leon brings a creative approach to the AV industry by designing and manufacturing customizable speakers and technology concealment solutions that enhance the sound and style of any space. For over 25 years, they have been a leader in the conversation on merging design with technology, creating innovative products that serve both the Residential and Commercial markets. Learn more on their website. 
All products, product names, trademarks and registrations mentioned are the property of their respective owners. All rights reserved.
Media Contacts
Company Contact:
Carolyn Ceccoli
Sales & Marketing Director at Leon Speakers
(734) 926-4092
[email protected]