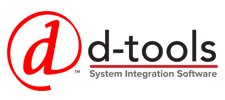 FOR IMMEDIATE RELEASE | DOWNLOAD IMAGES
D-Tools Launches New Customer Portal as part of SI 2017 Update for Increased Client Engagement and Collaboration for Today's Mobile Workforce
 D-Tools Customer Portal enables users to share client-facing documentation via the web for more interactive communications anytime and from anywhere
CONCORD, CA — July 13, 2017 — D-Tools, Inc., the worldwide leader in data-driven system integration software, today announced a major new release of its award-winning System Integrator 2017 (SI 2017) software platform. Available immediately worldwide, D-Tools has enhanced its robust Cloud infrastructure by adding significant new capabilities and performance improvements including a new Customer Portal, which enables D-Tools users to publish project documents to the web for client comment, acceptance and e-signature approval – from any Internet-enabled device.
Increase Client Engagement through D-Tools' Customer Portal
The increasingly mobile workforce demands easy access to documents from anywhere and at any time. Built on the D-Tools Cloud infrastructure, the new Customer Portal facilitates collaboration and increases client engagement, even across time zones and mobile platforms. Users can share proposals, contracts, change orders, drawings, cut sheets, user manuals and other client-facing documents via the web. To review, comment, and accept (or reject) the documents presented, clients simply click on the emailed link and login to a secure web portal. This new web-enabled, device-agnostic capability expedites client communication and approvals, to keep projects moving forward and ensure that timelines and budgets are met.
"Our latest release includes many efficiency-minded enhancements, two of which I am particularly excited about—the new Customer Portal and the Quick Quote tool.  Like with D-Tools' Purchasing Portal that allows users to issue POs to vendors and for vendors to comment and accept or reject the PO, the Customer Portal extends that cloud infrastructure by enabling users to share any document created or stored in D-Tools with their clients (and others) for comment and approval. This is a significant leap forward for those who seek direct and efficient communication channels in an increasingly mobile world," said D-Tools CEO Randy Stearns. "The new Quick Quote feature is perfect for upgrades, add-ons and/or product-only (i.e. retail) sales to existing (or new) clients. Built as a generic report, it can be easily modified for use as a Change Order, Sales Order, Service Work Order or any transaction that doesn't warrant an in-depth proposal, detailed scope of work, and formal contract agreement. It is my hope that these two new features will streamline the project workflow process for D-Tools customers worldwide."
Additional new features included in the SI 2017 update include:
Quick Quote Report – New report that combines client, project, and contract details, such as scope of work, pricing, and payment terms, into a single, easy-to-read document – ideal for smaller jobs.
New Report Theme Editor – Enables the creation of custom report themes, builds on the new report themes introduced as part of SI 2017, and enables customization of colors for report objects such as headers, footers, and fonts.
To demonstrate the benefits of SI 2017 and the new Customer Portal, D-Tools will host a webinar on Wednesday, July 26, 2017, at 10:00 a.m. PST. Register here: https://register.gotowebinar.com/register/7065202619164707330.
Additional information can be obtained by signing up for a personal guided tour by visiting http://d-tools.com/live-demo-webinar/ or for a free 30-day trial, which can be downloaded by visiting http://d-tools.com/30-day-free-trial/.
About D-Tools, Inc.
D-Tools, Inc., founded in 1998 and based in Concord, California, is a worldwide leader in accessible, highly accurate system design and documentation software platform. The company's flagship product, System Integrator™ (SI), is a robust solution that utilizes Autodesk® AutoCAD and Microsoft® Visio to facilitate comprehensive system design, documentation and project management. D-Tools enables residential and commercial integrators to streamline business processes and increase revenues while reducing the time and cost associated with the installation and integration of low-voltage electronic systems. More than 5,500 leading companies in 87 countries currently use the award-winning D-Tools platform to reduce time, costs and to streamline the system integration process. Product updates and related information can be obtained by following D-Tools on Twitter, Facebook, and LinkedIn.
All products, product names, trademarks and registrations mentioned are the property of their respective owners, all rights reserved.
Media Contacts
Tim Bigoness, D-Tools, Inc., (925) 270-4102,
[email protected]Katye (McGregor) Bennett, KMB Communications, Inc., (425) 328-8640, [email protected]