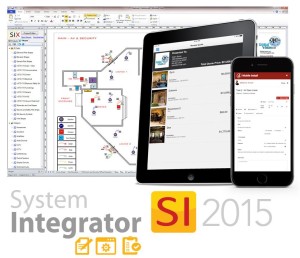 Award-winning SI 2015 platform features workflow-enhancing Mobile Install feature, enhanced QuickBooks integration, and significant productivity-boosting features promote a more professional, productive, and profitable organization 
 CONCORD, Calif., USA – (June 2, 2015) — D-Tools, Inc., the worldwide leader in system integration software, will demonstrate the newest version of its award-winning System Integrator™ software platform, SI 2015 for the first time at InfoComm 2015, June 13–19 in Orlando. With a robust feature set filled with updates and improvements, the D-Tools System Integrator software platform is more beneficial to integrators, consultants, tech managers, and advisors than ever, enabling them to be more productive, efficient and effective, thus improving their workflow and enhancing the value of their offering. Designed for use by both seasoned and new system integration and design professionals alike, D-Tools SI 2015's impressive new feature set includes:
Mobile Installation Management
Building on D-Tools' Cloud infrastructure, SI 2015's Mobile Install (MI) feature gives users the power to publish Install Tasks and Service Orders to a portal that technicians and integrators can conveniently access in the field from any smartphone or tablet, as well as to send and receive device-level notifications. Users can also schedule installs and make updates to a centralized automatically synchronized calendar then broadcast those appointments and changes out to their team in real time.
Improved, Standardized Drawing Tools
Highly effective AutoCAD (including AutoCAD 2015) and Visio-based industry-standard and related drawings provide more concise communications between team members and consultants for more efficient project management. Now, integrators, advisors, designers, architects, contractors, and other tradespeople speak the same language and can more effectively work towards the same goal.
Mobile Quote AppMobile Quote is now available as a companion iOS app for D-Tools SI 2015. Mobile Quote allows professionals to work with customers in the field to secure an accurate and immediately deliverable system design quote­­—before the customer has time to second guess the decision or secure alternative resources.
QuickBooks Integration
SI 2015's enhanced integration with QuickBooks allows integrators to track inventory and order status, sync vendors, and more.
 To make it even easier to experience the productivity, efficiency, and profitability features of SI 2015 D-Tools is offering a free 30-day trial here.
To learn more about the D-Tools MVP Program, D-Tools System Integrator, or the undeniable benefits of using a streamlined system design, proposal, and estimation software platform, please visit www.d-tools.com, call (866) 386-6571 ext. 1, or e-mail [email protected] or [email protected].
About D-Tools, Inc.
D-Tools, founded in 1998 and based in Concord, California, is a worldwide leader in accessible, highly accurate system design and documentation software platform. The company's flagship product, System Integrator™ (SI), is a robust solution that utilizes Autodesk® AutoCAD and Microsoft® Visio to facilitate comprehensive system design, documentation and project management. D-Tools enables residential and commercial integrators to streamline business processes and increase revenues while reducing the time and cost associated with the installation and integration of low-voltage electronic systems. More than 4,500 leading companies currently use the award-winning D-Tools platform to reduce time, costs and to streamline the system integration process. Product updates and related information can be obtained by following D-Tools on Twitter and on Facebook. 
All products, product names, trademarks and registered trademarks mentioned herein are the property of their respective owners, all rights reserved.
 Press Contacts  
Tim Bigoness, D-Tools, Inc., (925) 270-4102, [email protected], www.d-tools.com
 Katye (McGregor) Bennett, KMB Communications, Inc., (425) 328-8640, [email protected], www.kmbcomm.com, @KMB_Comm
MVP Contact 
Josh Carlson, D-Tools, Inc., (925) 270-4105, [email protected]