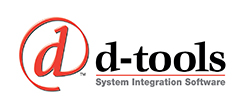 FOR IMMEDIATE RELEASE
D-Tools CEDIA Booth #2512
Core Brands CEDIA Booth #4100
D-Tools Invites CEDIA Expo Attendees to Annual Celebration
Core Brands-sponsored event takes place Friday, September 16th in D-Tools Booth 2512
CONCORD, Calif. (September 7, 2016) — D-Tools Inc., the worldwide leader in data-driven system integration software, today announced the company's annual CEDIA Expo Celebration event will take place during CEDIA Expo in Dallas on Friday September 16, 2016 at 3:00 pm in D-Tools booth #2512. D-Tools Manufacturer Vantage Point (MVP) partner Core Brands will sponsor the event in support of celebrating customers, partners, and the industry as a whole. A popular event in past years, D-Tools and Core Brands invite CEDIA Expo attendees to share in the CEDIA Expo Celebration, meet and network with D-Tools and Core Brand team members, and learn more about the company's award-winning System Integrator 2016 (SI 2016) software.
The D-Tools CEDIA Celebration event, sponsored by Core Brands, will take place during CEDIA in Dallas on Friday September 16th at 3:00 p.m. in D-Tools booth #2512. Admission is free, beverages will be provided, and all attendees are invited.
Those interested in learning more about D-Tools and the company's award-winning System Integrator software platform are also encouraged to sign up for a free demo by visiting http://d-tools.com/live-demo-webinar/ or for a free 30-day trial, which can be downloaded by following this link http://d-tools.com/30-day-free-trial/.
About Core Brands
Core Brands combines the product and marketing strengths of iconic and award-winning control, audio, power management, connectivity and video distribution brands including ELAN®, SpeakerCraft®, Gefen®, Niles®, Panamax®, Proficient®, Furman®, Sunfire® and Xantech® to deliver a portfolio of connected home and commercial solutions to its channel partners and end users.
About Nortek, Inc.
Core Brands is a Nortek company. Nortek Inc. (Nasdaq: NTK) is a global diversified company with leading brands and innovative, technology-driven products and solutions for lifestyle improvement at home and at work. For further information, please visit www.nortek.com.
About D-Tools, Inc.
D-Tools, founded in 1998 and based in Concord, California, is a worldwide leader in accessible, highly accurate system design and documentation software platform. The company's flagship product, System Integrator™ (SI), is a robust solution that utilizes Autodesk® AutoCAD and Microsoft® Visio to facilitate comprehensive system design, documentation and project management. D-Tools enables residential and commercial integrators to streamline business processes and increase revenues while reducing the time and cost associated with the installation and integration of low voltage electronic systems. More than 5,000 leading companies in 87 countries currently use the award-winning D-Tools platform to reduce time, costs and to streamline the system integration process. Product updates and related information can be obtained by following D-Tools on Twitter, Facebook, and LinkedIn.
Media Contacts 
Tim Bigoness, D-Tools, Inc., (925) 270-4102, [email protected]
Katye (McGregor) Bennett, KMB Communications, Inc., (425) 328-8640, [email protected]
MVP Program Contact
Josh Carlson, D-Tools, Inc., (925) 270-4105, [email protected]
All products, product names, trademarks, and registrations mentioned are the property of their respective owners, all rights reserved.
# # #