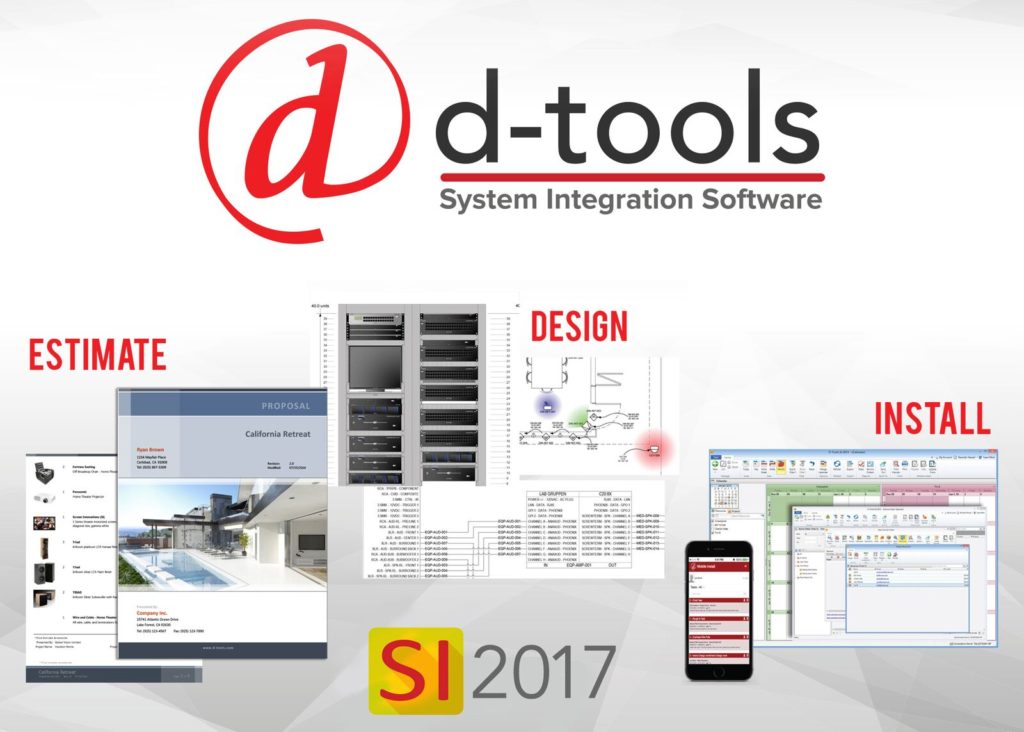 ISE 2018 Booth 1-N85
D-Tools to Demonstrate New Mobile Quote 2.0 App and Enhancements to the System Integrator Platform at ISE 2018
System Integrator platform help attendees streamline operations, automate business processes, and grow profitably
CONCORD, CA — January 2018 — D-Tools, Inc. will be demonstrating the latest enhancements to its award-winning estimation, system design, and project management software platform – System Integrator (SI) – in booth 1-N85 during ISE taking place February 6–9, 2018 in Amsterdam, NL. There, D-Tools will demo its new Mobile Quote 2.0 iPad® companion app, which helps industry salespeople seamlessly generate a project scope and pricing estimate for client review and approval during the initial client meeting. In addition, D-Tools will demo the new Customer Portal, which enables D-Tools users to publish project documents to the web for client comment, acceptance and e-signature approval – from any Internet-enabled device. D-Tools will also provide insight on tools and ideas that help attendees streamline operations, automate business processes, and grow profitably.
Increase Client Engagement through D-Tools' Customer Portal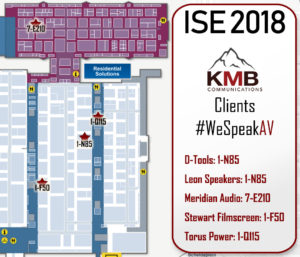 The increasingly mobile workforce demands easy access to documents from anywhere and at any time. Built on the D-Tools Cloud infrastructure, the new Customer Portal facilitates collaboration and increases client engagement, even across time zones and mobile platforms. Users can share proposals, contracts, change orders, drawings, cut sheets, user manuals and other client-facing documents via the web. To review, comment, and accept (or reject) the documents presented, clients simply click on the e-mailed link and login to a secure web portal. This new web-enabled, device-agnostic capability expedites client communication and approvals, to keep projects moving forward and ensure that timelines and budgets are met.
Generate Scope & Budget and More with New D-Tools Mobile Quote 2.0 App
Redesigned for a more intuitive, effective and visually impactful experience, D-Tools' Mobile Quote 2.0 is a native iPad® app that makes it easy to walk prospective clients through available technology options while seamlessly generating a scope and budget for customer approval. The data collected is instantaneously transferred into D-Tools SI for further design development and project management. Leveraging D-Tools' extensive product library and workflow concepts such as the specification of devices by location and system, Mobile Quote 2.0 allows salespeople to obtain signed approval of a project scope and budget, and even collect a design retainer, in the very first client meeting, thereby eliminating the competition as well as the need to waste valuable time on proposal revisions.
Mobile Quote 2.0 is available for download via the Apple app store here and can be installed for free. However, every customer must purchase Mobile Quote 2.0 licenses in order to fully use Mobile Quote. Device licenses are priced at $25.00 per iPad device per month, and available exclusively via the SI 2017 application. For more information on purchasing Mobile Quote 2.0, please click here.
Click here for a brief video introduction to Mobile Quote 2.0, or for a more in-depth video demonstration, click here.
To see how D-Tools can deliver profound visibility, insights, and results, ISE 2018 attendees are encouraged to visit D-Tools in
booth 1-N85
or sign up now for a free, personal online tour by visiting 
http://d-tools.com/live-demo-webinar/
. A free 30-day trial of D-Tools can also be downloaded anytime at
http://d-tools.com/30-day-free-trial/
.
About D-Tools, Inc.
D-Tools, Inc., founded in 1998 and based in Concord, California, is a worldwide leader in accessible, highly accurate system design and documentation software platform. The company's flagship product, System Integrator™ (SI), is a robust solution that utilizes Autodesk® AutoCAD and Microsoft® Visio to facilitate comprehensive system design, documentation and project management. D-Tools enables residential and commercial integrators to streamline business processes and increase revenues while reducing the time and cost associated with the installation and integration of low voltage electronic systems. More than 5,500 leading companies in 87 countries currently use the award-winning D-Tools platform to reduce time, costs and to streamline the system integration process. Product updates and related information can be obtained by following D-Tools on Twitter, Facebook, and LinkedIn.
Media Contacts
Tim Bigoness, D-Tools, (925) 270-4102, [email protected]
Katye (McGregor) Bennett, KMB Communications, (425) 328-8640, [email protected]
All products, product names, trademarks and registrations mentioned are the property of their respective owners, all rights reserved.