At CEDIA Expo 2018, Rayva's shows new Complete Solutions lineup that offers more flexibility; online Configurator makes specifying theaters simple; new interior options like 'The Light Edge' provide more design choice.
New York, NY (August 2018)—During CEDIA Expo 2018, Ravya, supplier of engineered and fully customizable turnkey home entertainment solutions, will show AV integrators how to make home theater simple with its new Rayva Complete Solutions lineup featuring gear selected by dealers paired with custom curated interior designs like 'The Light Edge' by Dimitri Theodorou. Rayva's new lineup and unique go-to-market strategy give dealers more choice, flexibility, and profit potential in the home entertainment and home theater categories than ever before.
Leading Brands Partner for CEDIA Expo 2018 Demos and Joint Press Conference
Reimagining the way home theaters are specified and sold, Rayva's demo will feature an introduction to the Rayva model and products from leading manufacturers Origin Acoustics, Barco Residential, Stewart Filmscreen, Josh.ai, Kaleidescape, Fortress Seating, and Audio Control. This demo will present what's possible with Rayva and intended to promote home entertainment value, simplicity, and profitability. Together, Rayva and its AV partners Make Home Entertainment simple.  
Origin Acoustics and Josh.ai will join Rayva for a joint press conference for registered media attendees on Friday, September 7th at 11:00 a.m in SR-6 to showcase Rayva's offering, demonstrate Josh.ai's new, state-of-the-art voice control, and listen to Origin's Marquee precision loudspeaker technology designed for modern applications. Together, these three brands will demonstrate Why Rayva's New Approach to Home Entertainment Simply Works.
A Simple Approach to Modern Home Entertainment
Rayva combines state-of-the-art technology with Theo Kalomirakis' curated line of proprietary interiors, acoustic specifications, and engineering and design accessories. These complete solutions make it easy and highly profitable for AV integrators to sell home entertainment and reward the consumer with outstanding entertainment value.
Dealers Choose the Gear That Goes Into Their Rayva Home Entertainment Package
With Rayva, dealers now have the freedom to select the products they know and trust to integrate into a Rayva system, so long as they are within the performance requirements of the selected Rayva package. This gives dealers the flexibility they need to maintain the valuable relationships they have with their vendors and customers while making it simple to deliver different levels of performance to their customers. With several new designs available and more on the way, dealers can easily provide clients with equipment packages that meet their needs and interiors that meet their style. 
Online Configurator and Engineered Solutions Make it Easy
Rayva will also demonstrate its new Configurator (shown above), an online tool that makes it incredibly easy to select and specify the Rayva home entertainment solutions to meet a range of needs and budget. The process starts with the selection of a room template that is closest to the client's allocated space. An intuitive step-by-step process, the Configurator uses industry standards for acoustics and optimal viewing criteria that maximize the number of seats and screen size for the chosen space and includes 12 new and proprietary interior designs.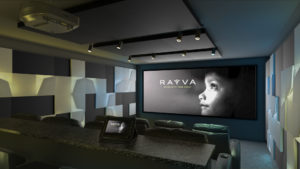 New 'Light Edge' Theater Design Premieres at CEDIA
To enrich its library of home theater and media room designs, Rayva continues its search for fresh design concepts in the AV industry and beyond. Recently, Rayva Executive Director Theo Kalomirakis worked with artist Dimitri Theodorou to create a new interior design, The Light Edge. Based on abstract shapes, Light Edge uses beams of light from multiple sources to generate dynamic shapes on the walls of a room. An impressive addition to the Rayva lineup, The Light Edge is a beautiful illustration of Dimitri Theodorou's talent.
See what's Possible in Home Entertainment with Rayva During CEDIA Expo 2018
Rayva invites CEDIA Expo 2018 attendees to visit Sound Room 6 (SR-6) on the show floor to learn about its new lineup and offering, try its new Configurator in person, and see how Rayva makes it easier, more approachable and profitable to sell home entertainment solutions.
About Rayva
Rayva is the AV industry's first exclusive provider of turnkey, engineered home entertainment solutions. Supplying system specifications, designs, and engineering documents as well as acoustics and aesthetic enhancements, Rayva makes it simple for integrators and home technology professionals to sell and install immersive entertainment solutions. Rayva removes the barriers of complexity and the unknown, helping to create an exceptional technology experience that brings families closer together through the magic of movies and music. Learn more at www.rayva.com and follow @RayvaTheaters on Twitter, Facebook, and LinkedIn to stay up to date on the company and its offering.