Deadline…. Nailed it!
Yes, we helped yet another client meet a contest deadline and now, with words counted, equipment listed, key players named and content submitted, we sit and wait – fingers, toes, and even Jackson's ears crossed. (For those who don't know, Jackson is the official KMB mascot and good luck charm.) Wouldn't you give this face an award?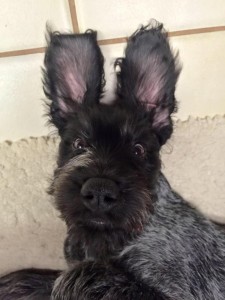 Contests cost money. They take time, which we acknowledge and understand is extremely valuable in a manufacturer or home technology professional's day. They require great attention to detail and a certain bit of savvy in knowing what the judges look for in winning entries.
And we stand by them as a great branding, visibility, and marketing tool in nearly every situation. Here are three reasons why contests should be part of your company's strategic communications plan.
1. A winning contest entry provides marketing collateral for a full year.
Most AV industry contests are annual events. If you win you earn bragging rights for a full 365 days. You can create entire campaigns from your win, giving the product or project added visibility and instant street cred. Like we did for our client, Torus Power, when their TOT AVR won the 2015 CE Pro BEST Award at CEDIA, you can create social media banners showcasing your winning product. You can also:
– Create ad campaigns around the win
– Put an award icon next to the product on your website
– Mention the award in your corporate email signatures
In addition, it's easier to get an award-winning product in the hands of top product reviewers, and those reviews will generate even greater buzz around your project. It's all about strategy, and your marketing team or PR and strategic communications firm can strategize to get the most out of your contest win.
Case in point: The recent review of the TOT AVR in TONE Audio magazine, and its selection as a Product of the Year in the Accessories category for 2015.
Another example: After integration firm Multimedia Resource Group won a Home Builders' International (HOBI) association award for their Greenwich, CT, home theater, owner David Kepke leveraged the publicity to gain a story in Electronic House and, with assistance from KMB Communications, kept the buzz going with a number of other promotional campaigns.
2. Even if you don't win, you've put yourself in the line-of-sight of the judges, who are typically magazine editors, organization chairs, and other key AV industry influencers.

It's pretty obvious to talk about why it was smart to enter a contest if you wind up winning. And, of course, if every contest entrant were guaranteed a win, investing the time and money to complete the application would be a no-brainer.
But are contest entries still a good risk if you're not guaranteed a win?
If you weigh the odds of winning, whether or not to enter a contest is a personal decision. How many products or projects are in your category? Does yours have something special to set it apart in the eyes of the judges?
We strongly recommend that our clients enter contests when they have a quality product or project to showcase. And it's even more important for companies who don't have the help of a PR and strategic communications firm that has established relationships with editors. Entering a contest puts you on the radar of industry influencers, including magazine editors, industry organization chairs and, for integrators submitting their projects, the marketing teams of top manufacturers.
Many magazine editors and manufacturers mine their contest entries for article and case study material. Besides, as you enter contests, industry influencers will start to recognize your name – and begin to realize you are a company worth watching.
Contest entries may not be "free" publicity, but most are very affordable, especially considering the potential return-on-investment.
3. You can use the contest material in other ways.
After you've taken the time to compile all the details about your latest project, why not pitch it as a story to a trade magazine? Or re-slant it for end users and submit to a local lifestyle magazine? Or create a case study to show your customers and publish on your blog?
Especially for integrators, we understand the hassle involved in putting together the details about a project – pulling purchase orders, gathering photos, racking your brains to remember the small details, making sure everyone's name is spelled right.
But it's not wasted effort. Chances are, you're not taking time each month to consider what content you should be sharing with your network. Your contest entry gives you a neatly packaged place to start.
Content, today, can be slanted in so many ways, from Facebook slideshows to magazine features, and each one can reach a different audience, or reach people in the way that will appeal most to them.
You can even use your contest entry in other contest applications. Stewart Filmscreen's LuminEsse fixed frame front projection screen system took home an ISE Best of Show Award from New Bay Media in February 2015 and, four months later, also earned a Best of Show Award from Sound & Video Contractor magazine at InfoComm. (As an aside, Stewart Filmscreen, who has made contest entries part of their overall marketing strategy, also earned a Best of Show Award from New Bay Media title Digital Signage for its FIDELEDY Vision system.)
And that HOBI-award winning project completed by Multimedia Resource Group? It also went on to win an Electronic House Home of the Year Gold Award for Best Home Theater over $150,000.

You Have to Be In It…
To paraphrase a popular (trademarked) phrase, you have to be in it for a chance to win. We know all the steps it takes to enter a contest may seem daunting, but once you enter your first few, you'll have the process down.
Our clients D-Tools and Ihiji are excellent examples of this. D-Tools won a dozen awards in the residential, commercial and security channels in 2015, including a CE Pro BEST Award at CEDIA, while Ihiji won a CE Pro BEST, Technology Integrator EXC!TE award, and a CEDIA Best New Product award.
 Both D-Tools and Ihiji took home CEDIA Best New Product Awards in 2015 – in part due to prompting from KMB Communications Chief Strategist Katye (McGregor) Bennett to enter the competition. The wins provided much-needed and well-deserved attention for the category of software-based solutions in residential AV, and fit directly into the marketing strategies of both firms.
You, too, can benefit from the enhanced visibility and the promotional power of industry contests. Just establish contest entries – and the peripheral material that comes from the entry – as part of your regular strategic marketing efforts.
Need a hand with your strategic communications and PR outreach efforts? KMB is here to help you develop a digital dialog with your audience.