AtlasIED's new GCK app and digital communication station join its GLOBALCOM mass communications platform, while new wall-mounted IP display delivers audible and visual notifications via GLOBALCOM and third-party communications systems. 
PHOENIX, AZ – (October 23, 2021) – AtlasIED continues to evolve its popular GLOBALCOM mass communications platform with the addition of several key new products, giving commercial AV integrators even greater choice and flexibility when designing and deploying life safety and general notification systems. Engineered and designed to support the communications needs of a wide range of commercial environments, but ideally suited for transportation facilities, the products debuting at InfoComm 2021(booth #2311) include an updated version of the GLOBALCOM GCK software application and a digital communications station in both Dante and CobraNet versions. AtlasIED also expands its IPX Series with a new IP endpoint that combines an integrated LCD, flasher, and talkback microphone for delivery of audible and visual notifications. 
AtlasIED's updated GCK Application can be utilized on any Windows 10 device or server. In addition to this installation flexibility, it provides AV integrators the same great features as the original GCK software, but with a brighter, more modern user interface to streamline programming and navigation. Per the request of AV integrators, also new is the ability to program the software off-line, further streamlining deployment of GLOBALCOM mass communications systems. 
Advancing the scope of the GLOBALCOM platform further is AtlasIED's new 571 Digital Communication Station for live announcements via a microphone. Replacing AtlasIED's 528, 550, and 570 Series Digital Communication Stations, the 571 Digital Communication Station supports both CobraNet and Dante standards, features a highly intuitive and easy-to-clean adaptive touchscreen as its user interface, and can be flush-, surface-, or desktop-mounted either vertically or horizontally.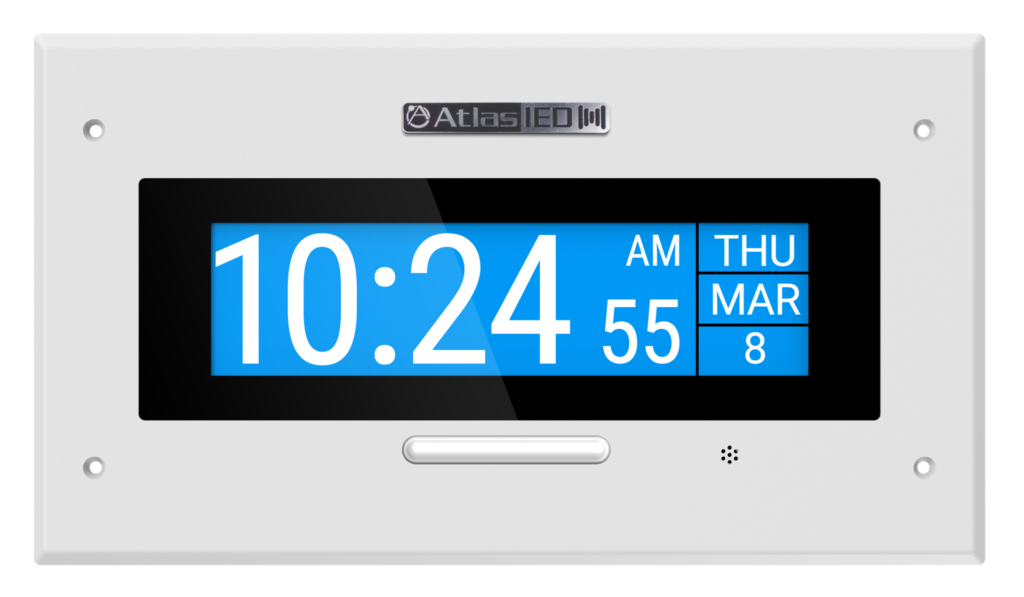 Further enhancing mass communications solutions in AtlasIED's comprehensive lineup, and a commonly requested addition to the IPX family of IP endpoints is the IP-DMF, an indoor wall-mounted IP Endpoint supporting audio and/or scrolling text alerts and visual signaling through a flasher to improve the functionality of daily and emergency notifications. The IP-DMF is particularly useful in noisy environments like factories, transportation hubs, school and corporate cafeterias, auditoriums, and more, where visual communication is usually more effective. An integrated talkback microphone supports intercom functions. Used with AtlasIED's GLOBALCOM® or third-party software like Singlewire's Informacast, IPX products expand the capabilities of public address, paging, and mass communications systems to ensure coherent, consistent, and compliant communication when and where it's needed.
"The communications needs of commercial environments, particularly in the large venue, enterprise and campus-wide, and transportation industries, are constantly changing, so it's imperative that our mass communications solutions keep pace through the development of cutting-edge products engineered with exciting new features and capabilities," says Justin Young, General Manager at AtlasIED. "These recent new additions to our GLOBALCOM and IPX Series represent AtlasIED's commitment to providing the most technologically advanced yet simple-to-deploy communications systems in the commercial AV market."
InfoComm 2021 attendees are invited to Booth #2311 to see AtlasIED's the updated GLOBALCOM GCK Application, 571 Digital Communication Station, and IP-DMF IP Endpoint, as well as several other product introductions. To see AtlasIED's entire GLOBALCOM and IPX Series portfolio, please visit https://www.atlasied.com/z-series-overview and https://www.atlasied.com/shs-series-overview. The GCK Application and IP-DMF IP Endpoint are currently available, in stock and shipping.
About AtlasIED
AtlasIED has been a recognized leader in the pro-audio industry for over 85 years, developing innovative audio solutions for a wide variety of commercial environments. The company's diverse, comprehensive, and ever-evolving solutions cater to the high-quality audio and communication technology needs of markets globally, including transportation, healthcare, corporate, industrial, government, hospitality, education, and house of worship. Technologically advanced, expertly engineered, and highly marketable, AtlasIED's products and systems deliver mass communication, high intelligibility announcements, IP-based visual and audio communications, distributed audio, background music, paging, and sound masking solutions to commercial projects of every size and scope, including those which are mission-critical. Family-owned, the company's nine locations and a well-established network of experienced manufacturer representatives and distributors throughout the world ensure exceptional customer support and service to drive continued growth and advancement of the commercial audio industry. 
For more information please visit www.atlasied.com, and follow the company on Facebook, Twitter, Instagram, and LinkedIn.
AtlasIED Media Contacts
Gina M. Sansivero, AtlasIED, (516) 901-8542, [email protected]
Katye (McGregor) Bennett, KMB Communications, (425) 328-8640, [email protected]
All products, product names, trademarks, and registrations mentioned are the property of their respective owners, all rights reserved.