From the newly defined Director's Choice to the highly differentiated Phantom HALR to the much anticipated new website, Stewart Filmscreen continues to lead the market with producing the world's finest projection screens for every application.
Torrance, CA (August 2018) — Manufacturing completely custom, seamless, high-performance screens for more than 70 years, Stewart Filmscreen continues to challenge the limits of what's possible with two-piece projection. CEDIA Expo 2018 attendees are invited to see Stewart's product lineup and explore opportunities to exceed their clients' visions in booth 5324, September 6–8 in San Diego.
Making its worldwide debut during CEDIA Expo, the definitive Director's Choice continuous four-way masking screen system has been redesigned, creating a larger image size. Robustly built with the same luxurious finishes and multiple screen material choices, the new Director's Choice has no equal. Easy to service and up to 30 percent more viewing area makes this screen the continued favorite among those who must have the very best.
Stewart will also showcase a variety of advanced projection screen technologies including the highly differentiated Phantom HALR screen material and the time-tested and value-centric Cima projection screen models alongside other exciting solutions for the modern home.
"Today's homes present challenges which can't be served by a one-screen-fits-all approach," says Stewart Filmscreen President and CEO Shannon Townley. "Design is at the forefront, image is everything, and consumers are looking for larger screen sizes. That is why Stewart Filmscreen produces bespoke screens for nearly every type of environment. Whether it's our multi-directional, high ambient light rejection screen material—Phantom HALR, our newly designed, high-end Director's Choice masking system, or our more value-oriented Cima line of products, our customers will be provided with the very best projection screen solutions, period."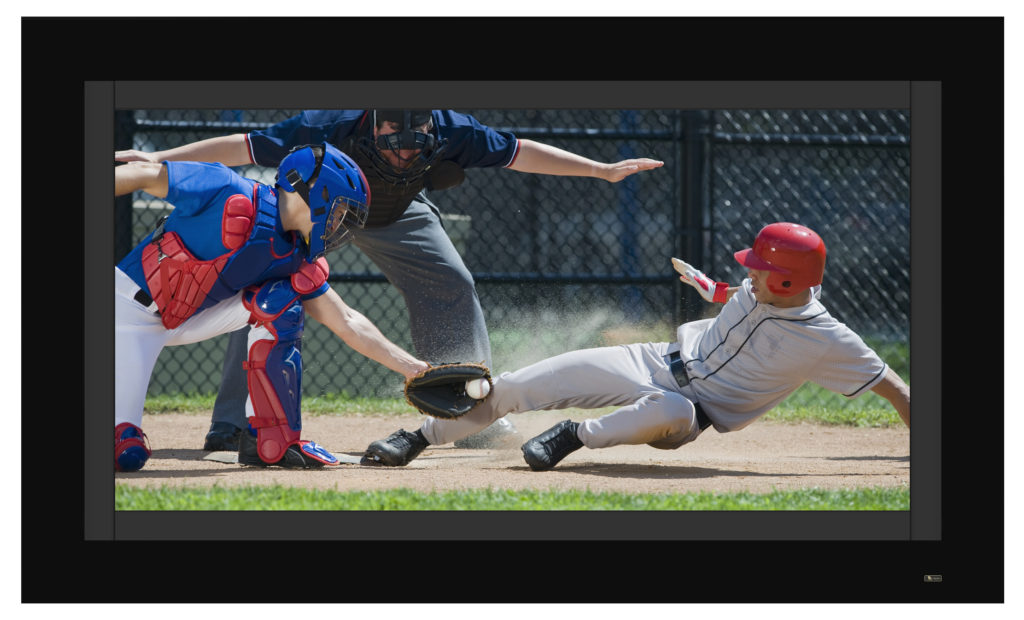 Legendary Director's Choice Delivers Exceptional Entertainment Experiences
Director's Choice, Stewart's four-way masking screen system, has been reimagined and re-engineered and will debut at this year's CEDIA Expo. The ultimate screen system for deluxe home theaters, the newly refined Director's Choice now features a slimmer frame and offers a larger viewing area. By reducing the frame up to 75 percent, the Director's Choice offers homeowners and integrators a sleek, streamlined look and a larger image size for today's home theaters and media rooms.  
Content comes in all shapes and sizes, and Director's Choice accommodates it all with exacting precision by automatically adjusting changing aspect ratios using four-way variable masking that eliminates vertical and horizontal black bars around the image. This unparalleled screen provides limitless flexibility, luxurious custom craftsmanship, robust sizes, and 16K+ capabilities to deliver exquisite images and an exceptional experience.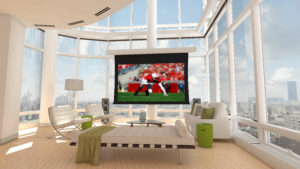 Pioneers of Ambient Light Rejection Projection Screen Technologies
Stewart Filmscreen solely developed the very first ambient light rejection (ALR) screen material, creating an entirely new category, now recognized worldwide by the AV Industry. Since then, the company continues to drive advancements by bringing to market multiple new generations including the venerable GrayHawk®, FireHawk® and now the highly-differentiated Phantom HALR™- the only true, multi-directional High Ambient Light Rejection screen material made today. Flexible, rollable, and also available in acoustically transparent seamless sizes up to 40- by 90-feet, Phantom HALR is capable of delivering an image that meets ANSI standard industry contrast ratio specs in a room flooded with ambient light and more than 50 foot-candles shining directly onto the surface of the screen. Representing more than two decades and four generations of innovative screen solutions, Stewart's ALR lineup continues to be perfected over the years to deliver wow-worthy images for nearly any environment.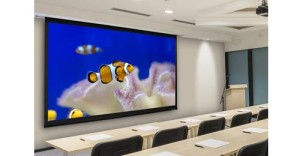 Legendary Quality and Performance for Any Budget
With several options available, Cima® by Stewart Filmscreen delivers incredible durability, image quality, and aesthetics at an unbelievable value. Designed and manufactured in the U.S. by Stewart, Cima retractable ElectriScreens feature quiet electric motors and finely machined roller tubes to provide years of dependable operation. High-grade, extruded aluminum cases elegantly support the screen system, protecting it from dust, dirt, and other environmental factors that can shorten the life of a projection screen system. Above and below-ceiling models are available in standard sizes from 100 to 164 inches diagonal and fixed frame models are available in standard sizes from 100 to 153 inches diagonal.
New Website Showcases What's Possible and Simplifies Screen Specification
With an exciting, clean new look and enhanced user-friendly capabilities, Stewart Filmscreen invites CEDIA Expo attendees to check out their website demo and 'Experience the Stewart difference – creators of wow-worthy moments of timeless quality and superior design – made just for you.' Designed to help visitors quickly find the solutions they need or simply learn more, the new www.stewartfilmscreen.com website will go live soon. The website features enhanced product sections, high-resolution images, a refined screen finder, and a broad assortment of technical papers, articles, and other insightful resources to educate and inspire integrators and end-users, alike. Stewart invites you to visit booth 5324 and experience the new website interface on display and also see what's possible in the two-piece projection category.
Partnering With the Best to Deliver the Best
During CEDIA Expo 2018 many of the finest demonstrations and displays will again feature Stewart Filmscreen projection screens including Barco, JVC, Rayva, Pro Audio Technology, Digital Projection, Kaleidescape, Epson, LG Electronics, and Bowers & Wilkins.
CEDIA Expo takes place September 6-8, 2018, at the San Diego Convention Center, and is open to the trade only. Registered attendees are invited to visit Stewart Filmscreen in booth 5324 to see and experience the Stewart Filmscreen difference.
About Stewart Filmscreen®
Stewart Filmscreen is the premier manufacturer of professional projection screens since 1947. Headquartered in Torrance, California, with additional manufacturing facilities in Ohio and Singapore, Stewart is the preferred choice for major movie studios, discerning integrators and consultants, architects, and audio-video enthusiasts, alike. With unparalleled ISO 9001:2015 manufacturing capabilities and unrivaled image fidelity, two-time Academy Award® winning Stewart Filmscreen produces the most optically immaculate projection screens for the most discerning customers in the world. Utilizing proprietary material science, innovative manufacturing methods, along with a solutions-driven design team, Stewart can custom engineer a projection screen solution to meet nearly every need. Simply put, if a screen can be imagined, Stewart Filmscreen can deliver it.
Learn more at http://www.stewartfilmscreen.com/ and by following us on LinkedIn, Facebook, and @StewartFilmscrn on Twitter.